We are the largest domestically founded Thai life insurance brand. Our operation can be traced its roots back more than 80 years. Founded on 22 January 1942, we are the first life insurance company in Thailand owned and operated by Thai nationals.
We have enthusiastically and successfully strengthened the Thai Life brand into one of the most acclaimed life insurer brands in Thailand.
As of September 30, 2023

Our agency's force comprises more than
44,300 agents
Presence in all
77 provinces
Branches and customer service centers
263 branches
We have more than 44,300 agents with approximately 26,000 of our agents are unit managers or above.
Our agency force represented more than 27% of total agents in Thailand as of December 2022, according to TLAA. We believe we have one of the highest quality, adaptive and productive agency forces in the industry.
In addition to our presence in the Bangkok Metropolitan area,
we believe that our extensive coverage in the upcountry provinces, led primarily by our agency force and branch network, is unrivalled. Over 33,300 or 75% of our agents covered upcountry provinces as of September 30, 2023
For 9 months period as of September 30, 2023, approximately 64% of our total agency gross written premiums was generated by upcountry regions.
In addition, compared to other insurance providers, we believe we have the most extensive branch and customer service center network in Thailand, with 21 branches and customer service centers in Bangkok and vicinity areas and 242 in upcountry areas as of September 30, 2023. These branches and customer service centers serve as customer contact points that foster in-person client engagement as well as centers for our agents to recruit, train, and manage teams as well.
Our product portfolio comprises a comprehensive suite of individual and group products, including a range of
and is designed to meet our customers' needs at every stage of their lives. We believe that we have strong product innovation capability and nimbleness as demonstrated by various market first products which we have consistently introduced. We have captured unique institutional customer groups that allow us to build on relationships and engage with members of such customer groups for cross-sales. For example, we have been providing life protection coverage for the officers of the Royal Thai Army for over 30 years. Moreover, we are one of the first life insurance companies in Thailand that offer coverage to medical personnel during the COVID-19 pandemic.
We believe that the life insurance market in Thailand remains underpenetrated and we are poised to capture the growing demands for insurance products. With a growing nationwide reach via our multi-distribution channels and a comprehensive range of life insurance products, we are able to serve our customers' needs holistically.
98%
of policy submission powered by mobile app TL Pro Plus As of Sep 30, 2023
>670,000
registered users of TLI application "Super App" As of Sep 30, 2023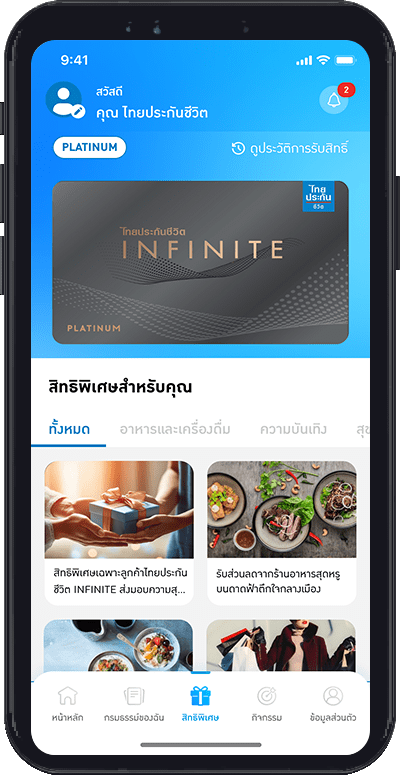 Distribution Channel Strategy
We have built an expansive partnership network with commercial banks, government banks and organizations, leasing and hire purchase and consumer finance partners and alternative distribution channels, including telemarketing, group employee benefits and digital platforms.
44,300
agents

(Company data as of September 2023)
representing more than 27% of total agents in Thailand (As of December, 2022 by The Thai Life Assurance Association)
Commercial Bank
We partner with four commercial banks in Thailand
access to over
690
bank branches nationwide
(As of Sep 30, 2023)
Bank of Ayudhya
since 2011
Thai Credit Bank
since 2010
Government Banks and Organizations
We have established partnerships with government banks
(As of Sep 30, 2023)
Bank for Agriculture and Agricultural Cooperatives
Cooperative (Public & Private)
Leasing and Hire Purchase Partners
We partner with 13 leasing and hire purchase companies
(As of Sep 30, 2023)
Toyota Leasing (Thailand)
Orico Auto Leasing (Thailand)
Eastern Commercial Leasing
Consumer Finance Partners
We partner with 2 consumer finance companies
(As of Sep 30, 2023)
Krungthai Credit Card (KTC)
Telemarketing
(As of Sep 30, 2023)
We operate an in-house call center with over 170 telesales representatives. We also outsource a small part of the telemarketing function to an external service provider with approximately 15 dedicated telesales representatives.
We have also introduced the "Friend Get Friend" campaign to recruit new telesales representatives.
Group Employee Benefits
(As of Sep 30, 2023)